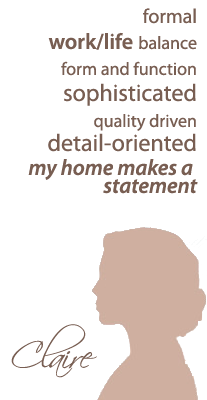 Claire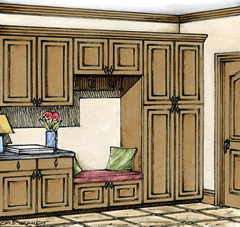 As a Claire, you view your home as a showcase and your primary emphasis is style, with touches of glamour. Because presentation and details are very important to you, your home will have some formal rooms and your entertaining is very structured, with great care given to preparation. You desire a gourmet kitchen and a designated dining room, but you also want space for guests to gather in or near the kitchen during more casual get-togethers.
You also need adequate storage for extra table linens, multiple sets of tableware and elaborate seasonal decorations - all the items necessary to be the consummate hostess. Your home will usually have a more formal Old World architectural style, such as French or Italian, and your furnishings may include very special antiques that enhance to overall décor or serve as striking focal points.
And certainly as a Claire, you appreciate dramatic details like columns, arched openings, large moldings and stepped ceilings. You're also likely to have a flower garden resplendent with fragrant, colorful annuals that supply your home with fresh flowers. Your home is most likely to be a part of a well-kept gated community.
---
Please Note: The "Finally About Me" section is only a tool to help us better understand you so we can better serve you. It is not uncommon that you may find traits of yourself in 2 different personality types.
"How can I find out which Woman-Centric Personality I am?"
Got a Question?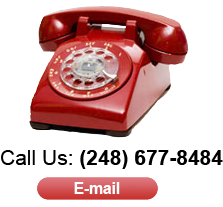 ---
View our homes for sale in Macomb, Michigan