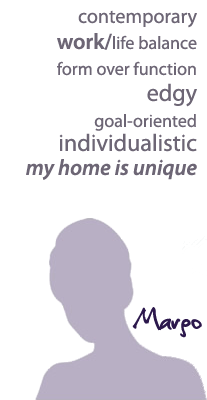 Margo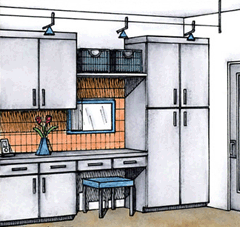 You are a busy, dedicated career woman, and as a Margo, you view your home as an expression of your sophistication as well as a place to recharge between work and social activities. You look for a home design that is unique or at least offers a few unusual features - perhaps a curved wall or a j-shaped island in the kitchen.
You like a sleek, contemporary style with an open design for easy mingling when you entertain. Low-maintenance is highly prized, but you'll go for more demanding products if they have the right amount of pizzazz. Easy maintenance extends to your yard, too - you would rather pick up flowers than grow them. But you do look for outdoor storage and living space with either a kitchen or fire pit.
If you have children or grandchildren, you want your home to accommodate them, but not be built around them. Storage for toys is a must, for instance, but an extra bedroom for the kids isn't a necessity. As a Margo, you may be found anywhere in the country, but so far you are most likely to be located very near or within easy distance of urban dining and cultural activities on either coast.
---
Please Note: The "Finally About Me" section is only a tool to help us better understand you so we can better serve you. It is not uncommon that you may find traits of yourself in 2 different personality types.
"How can I find out which Woman-Centric Personality I am?"
Got a Question?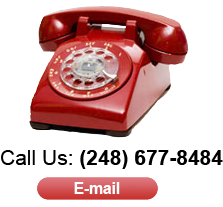 ---
View our homes for sale in Macomb, Michigan