American Heartland Homes and High Tech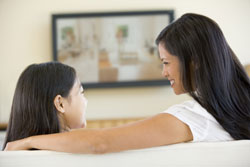 You must design a home with the future in mind. It is much easier to think of high tech items now and add them into the design now than to think of it later and try to add it than. All homes that are thinking of the future need to have the following:
A Distribution Center: This is a box inside your home where all the incoming sources (such as cable) can be gather and organized with all the out going sources (such as phone, media, data and etc). Having all wires run to the same enclosure panel allows for cleaner communication and easier maintenance. It will also help for any future expansion needs.


The Use of Structured Wire: This wire is design to carry all of the necessary information needed today or in the future thru out your home. A structured wiring system is more than just a random set of cables ran throughout a house or building; it is a systematically designed package which is installed by very stringent guidelines. Our structured wiring packages are designed to bring together each subsystem into one fully automated system - while accommodating upgrades.


Thinking of the Future: In order to accommodate future needs, you may want to consider pre-wiring for any and every system you may like to have installed in your project. Retrofitting systems in the future can be expensive, time consuming, and sometimes impossible without tearing down the walls. Pre-wiring a home or business allows customers to continually upgrade or add-on to the existing system. Separately a home theater, music system, security system, lighting control, climate control, and shade control provide convenience, comfort, and luxury to any home. But it's when all of these systems are integrated together that the benefits of living in a smart home make an enormous impact. United under a common control system, an LCD keypad, color touch screen, or an on-screen TV interface can alter the atmosphere of the entire house with one press of a button. Imagine as you leave your house for the day that the "Away" button on your home control system has been programmed to turn off all your lights, adjust the house temperature, turn off your TVs and music throughout the house, close your blinds, and arm your security system. Conversely, imagine when you return home that your "Home" button disarms the security system, turns on certain lights, adjusts the temperature to a comfortable level, and cues the whole-house music system. These features are convenient, practical, and achievable.
For more information please click on the following links:
Innovative technology is a hot button for buyers when many of us still can't program the clock on our VCR?
"Wired" Homes Still a Dream for Many Even new FCC standard disappoints tech-smart buyers
"What does Women-Centric mean?"
Got a Question?