Entertain
Yellow Areas Encompass:

formal rooms for entertaining
informal, open living spaces
outdoor "rooms"
kitchens that encourage guests to gather by a snack bar
rooms for watching movies or sports events
areas ideal for groups playing cards or board games
Formal Eating Area
Candlelight, soft music, ample room for guests and great conversation make dinner parties a delight. Whether it's a formal dinner party or a family holiday dinner, memories are intertwined with meals together. The main things to look for are space, proximity to the kitchen and flexibility. Is the dining area a comfortable size for the table, chairs and hutch, if you have one? Is it close to the kitchen, reducing steps when carrying hot dishes, or clearing the table? Should you desire privacy, can the space be closed off? If you have larger gatherings, are there two dining areas, perhaps the kids are at one table with the adults at another. Or, does your dining space flow openly into an adjacent space for additional seating? In addition, flooring choices, color, wall textures, ceiling treatments and window coverings are primary considerations. In addition to the aesthetics, look at maintenance issues - a high chandelier with lots of light bulbs can become a real pain when it's time to change those bulbs. Having control over lighting is critical to enhance your get-together. This includes accessible, easily adjustable window shades/coverings as well as separately switched, direct and indirect artificial lighting on dimmers.

Informal Eating Area
A table for breakfast and a snack bar for quick dinners provides several informal eating areas. The snack bar also makes a great spot to set-up a buffet.
Everyday meals mean everyday use for dinettes and snack bars. Because of its frequent use, maintenance and easy cleaning are central issues. Expect spills when you are considering flooring choices. Will you have to move chairs out of the way to sweep or vacuum? Especially at snack bars, seating suspended from the island or peninsula is a wonderful solution to ensure accessible seating that's easy to clean under. It also helps prevent damage to the flooring from chairs!

Open Living Spaces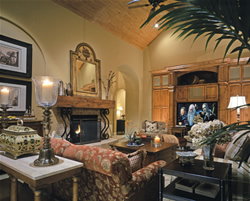 With the eating area, kitchen and great room all open to each other, everyone is part of the fun. An open floor plan really pulls entertaining or family life together.

More than just eliminating walls, today's kitchens are being designed with attention to views of fireplaces and entertainment centers. Open designs have also focused new attention on views into the kitchen. This has been one reason for the rising popularity of stainless steel appliances and glass front cabinets.

Outdoor Living Spaces
We are naturally drawn to the outdoors. After a hectic day at work, relaxing in the outdoors helps release tension. Research even shows that exposure to sunlight and trees has numerous health benefits.
Whether it's a barbeque or outside games, outdoor entertaining should be a natural extension of your home's flow. Covered porches are especially appreciated if inclement weather threatens your outdoor plans. For some, adding screens around the porch to control bugs means being able to truly enjoy being outside. Still others will opt for windows all around, turning their outdoor living space into a true four seasons room.

Media-Related Entertaining
With today's media choices running the gamut from gaming to movies or sports to the internet, until the issue of where the big screen TV goes is settled, we can't seriously consider building or remodeling.

Lighting and sound are the major issues to be addressed. Glare from windows or other lighting can ruin the multi-media experience, so this must be under control. While one group wants to crank up the volume, others may want to carry on normal conversation or even get some shut-eye. Sound isolation clips for drywall walls and ceilings, insulating those cavities, or using acoustic sound mats are all reasonable approaches to controlling sound levels. Also, be sure to use a solid core, weatherstripped door to finish sealing off a media room.

Split Bedrooms to Control Noise
Its inevitable when friends get together that someone else in the home needs privacy - whether studying, catching up on work brought home, or needing to get some sleep. Splitting secondary bedrooms from the master suite, and distancing bedrooms from entertaining areas, provides much needed quiet.

Few things in life are more important than getting a good nights sleep. Inside the home, look for quiet products such as kitchen or bath fans and appliances. Who wants to move to another room, just because the dishwasher is running? You can also limit noise coming from outdoors through advanced insulating, caulking and air sealing measures when your home is being built, plus quality windows and doors.

Finished Basements
A finished lower level not only adds needed square footage but allows for more informal entertaining. If you are fortunate enough to be building on a basement, today's engineered floor systems make wide-open basement spaces feasible and affordable, as they can span greater distances than conventional lumber.
In many areas, builders are responding to tougher energy codes by insulating basements - a great start towards a comfortable living space. Make sure you know where you will want electrical and other wiring to be run, and meet with your electrician to go over the plans.

Moisture and humidity are key issues in tandem with temperature. A little extra spent on basement waterproofing measures could save you from expensive repairs later. And even though your air conditioner is designed to remove excess humidity from your home in the summer, you may well find you need to run a freestanding de-humidifier in the basement as well to control humidity, mold, mildew and possible moisture damage.

Kids Play Area
If there are children in your home, you will value a place where they can go and play. A place where toys and games are stored and Lego creations can be left for a another day. In other words, a place where kids can be kids. Separate from their bedrooms, this flexible space may or may not have been finished space when the home was initially built.
Consider the types of activities your children will enjoy. If it is painting, for example, you will want a flooring surface that cleans up easily with a sink nearby. Also, consider how the space may be used differently as the kids age. Keep fanciful themes to more easily changed aspects which will also keep costs down when it's time to replace Winnie The Pooh with your boy's favorite sports theme.
Each Livability at a Glance™ floor plan is shown in a color-coded version that highlights four different categories especially important to women: Entertaining (yellow), De-Stressing (blue), Storing (orange) and Flexible Living (green).
"What does Women-Centric mean?"
Got a Question?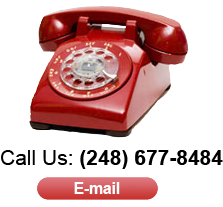 ---
View our homes for sale in Macomb, Michigan