Flexible Living
Green areas designate rooms that offer flexible living spaces that can adapt to unique situations:

rooms that can be combined to create in-law suites
home offices (even his and her offices!)
bedroom/bath arrangements for blended families
music rooms
homeschool rooms
craft or gardening centers
offices that can become dining rooms
dens that become guest rooms
Combine Rooms for In-Laws/Guest Suite
With the aging of America and boom-a-rang children, a house plan that can combine bedroom and a private bath makes a great suite. If the situation changes, the rooms can be used for other needs. Even more accommodating, some homeowners are utilizing a pair of adjacent secondary bedrooms as an in-law suite. Such arrangements offer considerable privacy, with the in-law suite offering both a sleeping area and its own living space as well.

4-Seasons Room
Bringing the outside in and views to the outside are important to many people. Many of us work in an office all day, so we like to incorporate outside living into our lives at home. Whether the area is screened in, enclosed with windows or just an open patio, it is an important element to daily living.

When asked "what is your favorite place in your home?" a surprising number of people answer their porch or deck. If you can identify with this group, consider adding (operable) windows all around your outdoor living space along with supplemental baseboard heating, enabling you to enjoy this space anytime!

Kid's Playroom
Whether it is your own family, company with children, or neighborhood kids, it is always important that you find a place for a playroom. It helps with everyone's sanity to keep the noise and toys away from adults.

Ironically, a kids playroom just might be one of your most prized luxuries in your new home. By having most of their toys, games, puzzles, etc. in this one room, keeping the rest of the house presentable an achievable reality!

Home Schooling Room
Increasingly popular, home schooling parents have a particular challenge with today's more open home designs–the need for privacy so their kids can concentrate on their studies or tests. When planning this space, consider storage, workspaces, lighting (especially natural light) and computer hook-ups.

Ideally, a room in the home can be dedicated to schooling. More often, it will double as a school room and serve another purpose at other times, so make sure the space is flexible. Pay particular attention to floor coverings if school or other activities are likely to include messy projects, crafts, etc.

Craft/Gardening Areas
When it comes to unwinding from our hurried lives or pursuing something we really enjoy, many people like to relax with a special hobby or craft. How many times do you have a project spread out on the kitchen or dining room table? An area out of public view would take the stress out of constant picking up. Therefore, having room in the home to pursue these and other hobbies in and of itself can contribute to distressing, especially if 'works-in-progress' can be left undisturbed.

The primary considerations for such spaces are related to the type of activity. Gardening, for example, is ideally suited for an area with a sink in it and being close to an outside door. Sewing and needlework projects are enhanced by high light levels. Woodworking fits well with concrete floors for easy clean-up plus plenty of electrical outlets for various power tools.
Whatever your favorite pursuit, what things could you do with your home which would enhance the experience? How about special task lighting? This is sometimes a hard area to identify, simply because we learn to cope with the shortcomings inherent to our present situation. The answers lie in things which frustrate you when engaged in these activities.

Bedroom/Bath Arrangements for Blended Families
Blending families can be a difficult task but picking a home plan that has been designed to address bedroom/bath needs makes the task so much easier.

Especially when combining boys and girls from two families into one new family, thought needs to be given regarding bedroom and bathroom accommodations. Everyone needs a sense of privacy and a sense of space which they can call their own. And when it comes to sharing a bathroom, dual lavatories are a big plus, as is a toilet/shower area separate from the lavs.

Home Offices (His and Her)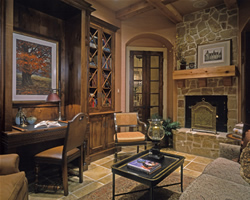 Kevin and Tina both work at home. Sharing an office is not working so they found a plan that gives them his and her offices. They can work in their own spaces but more than that; it makes for a pleasant marriage.

People who succeed in working from home attest to the importance of having a dedicated home office space where they can focus on their work. Today's economy coupled with downsizing and early retirement is giving birth to numerous cottage industries. The type of work you do out of your home will dictate your space needs. Pay careful attention to storage and any special wiring, as well as privacy.

Formal Dining
Candlelight, soft music, ample room for guests and great conversation make dinner parties a delight. The formal dining room also makes an excellent backdrop for a great dining room suite. Since entertaining inevitably involves food. Look at how you home enhances the dining experience. Be mindful of seating, which always becomes an issue. Homes designed with an open floorplan, especially ones in which the dining room flows uninterrupted into a great room, offer numerous entertaining options.

Room to Grow
An item no one wants to think about is outgrowing their home. But the reality is that family situations change and our needs and wants for space in the home change too. The solution? Unfinished areas of the home, especially on a second level or over a garage or in a basement.
You may not need this space when you first move into your home, but it will give you room to add a bedroom, media room, playroom, etc. Families can grow into these spaces and configure them as the need arises, without having the initial cost of finishing the space affecting their mortgage qualifications or mortgage payment.
Each Livability at a Glance™ floor plan is shown in a color-coded version that highlights four different categories especially important to women: Entertaining (yellow), De-Stressing (blue), Storing (orange) and Flexible Living (green).
"What does Women-Centric mean?"
Got a Question?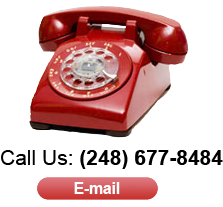 ---
View our homes for sale in Macomb, Michigan