De-Stressing
If you're looking for ways to de-stress your life, you'll appreciate homes with a lot of blue spaces. Some blue spaces offer relaxation such as:

personal getaways
a privately located master suite
a walk-in shower or whirlpool
a quiet porch or a craft area

Others provide unusual organizational features such as:

split vanities
mudrooms
drop zones that keep keys, briefcases, umbrellas, cell phones and laptops in one convenient spot
Personal Space
After a long and hectic day, find personal space to decompress is as important as breathing. Everyone has their own way to de-stress. Find a place in your home that works for you. What you like to do while you unwind will help shape this space.

If reading or watching a little TV is how you like to unwind, a sitting area in the master bedroom or a cozy hearthroom may be the perfect answer. Enjoy nature? Then covered outdoor living spaces will be high on your list. If you like to work off stress by working out, an exercise room works for you!

Large Pantry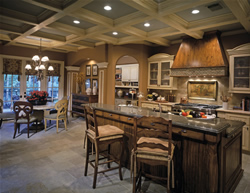 As a nation, we're cooking less, but not eating less. Some grew up in homes where a hot cooked breakfast was the daily norm. Today, a bowl of cereal, Pop-Tarts or a granola bar might be more common. That means an increasing need for storage for prepared foods.

Do you need space for your bread maker, indoor grill, food processor or mixer? Don't let clutter on your countertop stress you put them in the pantry. In addition to making pantries bigger, there's an evolving industry helping to make pantries more organized, through innovative storage solutions. With items organized and on display, we can quickly scan the pantry before a restocking trip to the grocery store˜saving both time and the aggravation of returning home only to find you forgot something.


Rear Foyer
A funny thing happened over the past couple decades. The door in from the garage became our principal entry to the home. Sure, a formal front entry to greet guests is important and is often a focal point of the home's design, but we're becoming increasingly comfortable with family and friends coming through the garage.

An emerging trend is to think of the entry from the garage as a rear foyer. And, just as you probably wouldn't make your laundry room a part of your front entryway, you probably don't want folks traipsing past piles of laundry on their way in from the garage. Note - you may want to modify your homeplan if originally designed with the laundry/mudroom, entry from the garage.

Our research revealed nothing is more stressful for Moms than getting the family out the door on-time in the morning, with everything they need. Rear foyers may offer solutions such as lockers for each of the kids, and even walk-in closets. A bench for removing shoes, is also popular.

Drop Zone
Mail, keys, cell phones, cameras - wouldn't it be great to have convenient place to drop our stuff so it doesn't end up as kitchen clutter, or worse? Today's hot new concept "the drop zone" is the answer. Typically made to match kitchen cabinetry and 3 to 4 feet in width, drop zones often incorporate a recharging center, mail sorting, drop-off counter, plus cabinets and drawers for everything from flashlights to sunglasses. Some drop zones are designed with doors behind which everything is concealed. They may include one or more locking cabinet doors or drawers for expensive items such as a camcorder or notebook PC. They may also double as a family message center when outfitted with cork board or a white write-on board.

Stress-free living includes knowing you'll never lose your keys again and where your fully charged cell phone is when you leave the house.

Split Bedrooms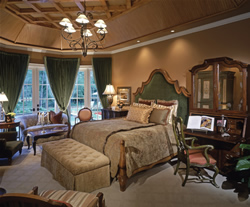 After a stressful day at work retreat to the master suite which is separated from secondary bedrooms for privacy. Designers typically try to buffer the master bedroom from other bedrooms by careful placement of closets, hallways and baths.
As opposed to designing a bedroom wing for the home, one-story designs in which the secondary bedrooms are situated far from the master bedroom are becoming more popular.
Walk-In
Shower Because they are used everyday in our time-starved society, showers are becoming the focal point of many bathrooms. As showers are getting bigger in today's homes, they are also getting more luxurious. Multiple shower heads are commonplace, as are seats in the shower.

How long does it take for clear shower doors to show white streaks? Low-maintenance showers are in demand, as well as walk-in showers which have no shower door to make cleaning easier. If your shower does require a door, look at the frameless versions which are elegant and easier to clean.

Split Vanities
Women take more time in the morning in the bathroom getting ready than men do. And, a fair amount of that time is spent leaning over the countertop. Split vanities provide handy storage solutions for items each spouse uses daily, keeping your vanity neat and organized. And, if one partner likes things clean and orderly while the other doesn't even notice this type of thing, neither will be annoyed at the condition of their vanity area.

Recognizing that men are on average several inches taller than women, building the vanities to be different heights is another aspect of a comfortable, distressing bath.

Garden/Whirpool Tubs
When asked about what they would like to do to de-stress after a long day, many women envision taking a relaxing bath. The experience is both soothing and rejuvenating - especially when surrounded by aromatic candles and pretty soaps.

Standard tubs have given way to soaking tubs and jetted (whirlpool) tubs. Look at the height of the tub in terms of getting in and out. A step up, or sinking the tub 7 or 8 inches lower than the surrounding floor, both make it easier to get in and out of the tub. Another aspect to consider is if there is a window over the tub. Privacy is as important as natural light. How easy will it be to reach over the tub and close the shades? You may want to opt for glass block or for the new privacy glass windows which go from clear to opaque at the flip of a switch.

Craft/Gardening Area
How many times do you have a project spread out on the kitchen or dining room table? An area out of public view would take the stress out of constant picking up. Having room in the home to pursue these and other hobbies can contribute to de-stressing, especially if works-in-progress can be left undisturbed.

The primary considerations for such spaces are related to the type of activity. Gardening is ideally suited for an area with a sink in it and being close to an outside door. Sewing and needlework projects are enhanced by high light levels. Woodworking fits well with concrete floors for easy clean-up, plus plenty of electrical outlets for various power tools.

Outdoor Living
Most people long to spend time outdoors. This is good, as research shows being outside is beneficial for both our physical and mental health.
Like many other product decisions, balancing cost, aesthetics, low maintenance and durability are principal considerations for porches, decks and patios. But these same aspects also apply to landscaping and irrigation, exterior lighting, play structures and other backyard decisions.
Each Livability at a Glance™ floor plan is shown in a color-coded version that highlights four different categories especially important to women: Entertaining (yellow), De-Stressing (blue), Storing (orange) and Flexible Living (green).
"What does Women-Centric mean?"
Got a Question?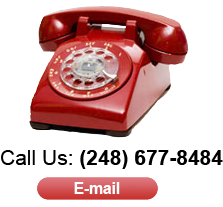 ---
View our homes for sale in Macomb, Michigan